Intelligent Health Outcomes
Powered by Circlebase NLP platform
Natural Language Processing
Most healthcare data is unstructured and resides in diverse formats (clinician notes, scanned documents, images, audio files to name a few) making it difficult to leverage this data to gain insights that improve patient care. unlocking the value of this information computationally through natural language processing (NLP) is of paramount value in advancing healthcare for humans.
This is compounded by the language variation across clinical specialties.
Conventional access to healthcare data is document-centric and requires reading the documents manually to find information. This approach is rife with errors, is time-consuming leading to missing data.
A solution that simplifies and unleashes
Our NLP platform takes you on the path towards a data-centric view. It uncovers intelligent health outcomes by harmonizing the structured, unstructured, and missing data. The result? Our solution outperforms manual and similar automation options significantly.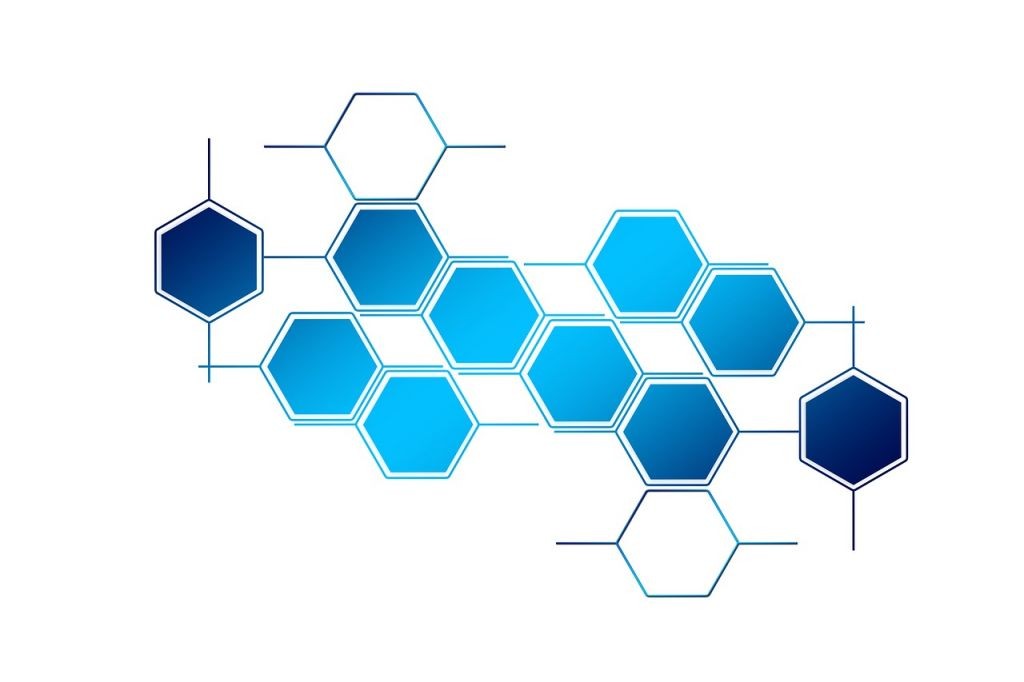 NLP in Healthcare and Life Sciences Market worth $4.3 billion by 2026
Our platform offers data extraction, lexical and semantic analysis, Named-Entity Recognition (NER), Assertion Status Detection, Relation Extraction, tagging and annotation, normalization, and visualization.
The output can be then fed into applications, visualization tools, AI/ML, and other platforms that make it easy to share and compare results and use the information to derive intelligent health outcomes.
Where our NLP platform truly shines is understanding the different ontologies used to categorize similar things, group them, and provide synonyms for concepts. For example, cancer, carcinoma, and neoplasm all refer to the same concept, so grouping this data and avoiding duplicates is one of the essential capabilities our platform brings.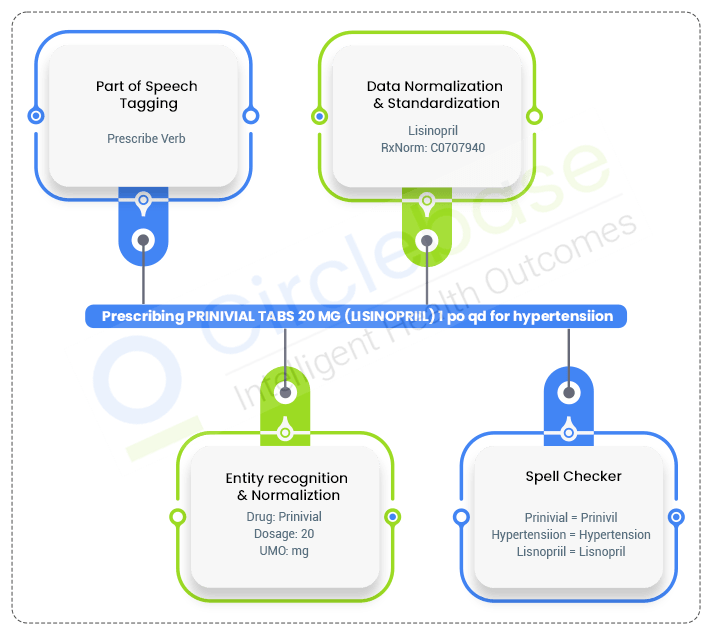 Depiction of data extraction by our NLP platform from the raw text in prescription / clinical notes
The platform offers a custom annotation tool by which our domain specialists constantly curate the data and provide feedback to the model in terms of data correctness and accuracy. This enhances the automation and ensures correctness.
To add power to the automation and ensure correctness shown below is an overview of Circlebase's NLP platform.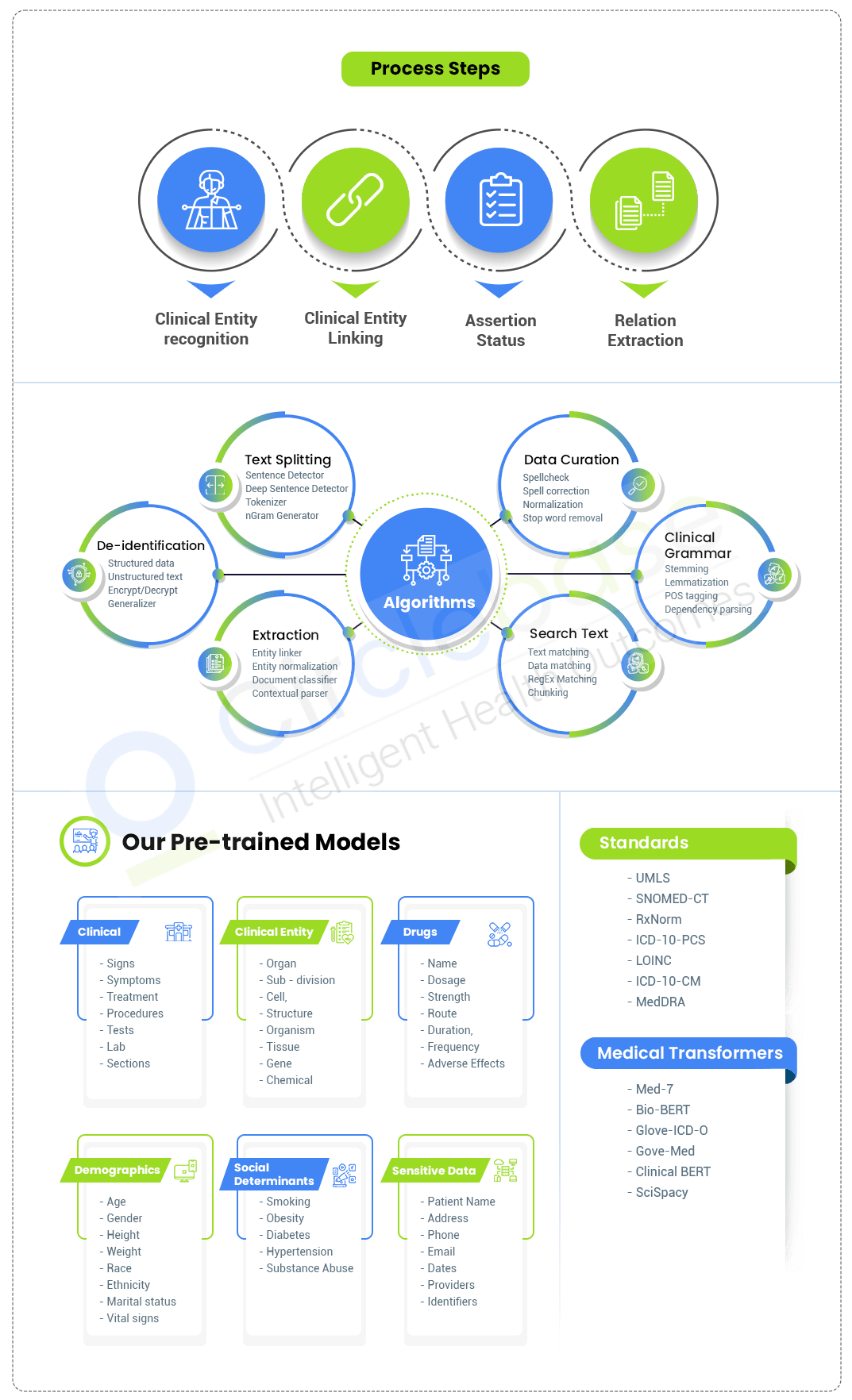 Circlebase NLP Platform Overview
Support for Multiple input formats: Text, scanned images, DICOM images, PDF version of medical records, CCDA or FHIR Formats
Named entity recognition: Clinical and biomedical entities

Drugs, dosage, symptoms, biomarkers, social determinants, condition, observation lab measurements, procedures, etc.

Negations: Ensure negations are identified, extraneous words removed, and spell errors corrected
Normalization: Normalize entities to medical standard classification (UMLS, RxNorm, ICD, CPT, MedDRA, etc.)
Custom Annotation tool: Helps domain specialists curate data and hone the data accuracy of the model
Map custom entities: Entity extraction models detect multiple relation types – between drugs and adverse reactions, measurements and value, condition and temporal,  genes and phenotypes, etc.
User Interface: Intuitive and interactive
Cloud-based: Hosted on HIPAA compliant cloud. A robust, secure, and scalable platform
Data Security: Compliance to healthcare standards (HIPAA, PHI, PII) data de-identification
Authoritative repositories
API driven: Integration with healthcare applications
Analytics & Visualization
Solution for diverse needs
One Platform. Immense Value.
Our platform is API driven and it can very well integrate with your enterprise health applications/ ecosystem be it upstream or downstream. The data extraction, data de-identification, data curation, entity mapping, and the desired intelligent outcomes provided by our platform can be used in multiple ways for the different stakeholders. Please find below a few samples of how our platform helps different stakeholders.
Fill out this form and we'll connect with you to discuss how we can help you.