Taking Lifesciences Companies to a future of open, patient centered, and integrated clinical trials.
Through our AI and ML led intelligent solutions.
Simply put, our solutions help machines understand medical language and make sense of enormous amounts of unstructured medical data. Science alone cannot fully comprehend disease. This is where Circlebase delivers its innovative use of powerful technologies.
We partner with life science companies and enable them to embrace cloud-based solutions that are powered by AI and leveraged by ML (Machine Learning), NLP (Natural Language Processing), and Machine Vision for efficient health outcomes that advance human health.
The problem with today's standard model of the clinical trial is that it is person-dependent and therefore error-prone.
AN ALL TOO FAMILIAR SCENARIO
Research teams and investigators are overwhelmed by huge volumes of data every day. This is not surprising, given that over 80% of ALL medical data resides in unstructured form. And they are delivered in every format, including clinical notes, written text, radiology images, pathology slides, video, audio, streaming device data, PDF, emails, faxes, and more.
How does all this impact a life sciences company like yours? Clinical trials' success depends on data quality, correct interpretation, and correct analytics. The problem for clinical trials today is that they are touched by multiple manual processes, and therefore prone to error. This creates a serious risk for both the patient and overall trial success. Unstructured data capture critical information that impacts every step of good clinical practice for research.
Find out how we reduce the burden of manual process in clinical trial matching.
LifeSciences Industry - Key Challenges
is the Per day cost of
any delay
of all trials fail to meet recruitment milestones
Patients drop out without completing trials
PRESENTING OUR PORTFOLIO OF SOLUTIONS
Circlebase empowers Life Sciences organizations with our automated solutions to help them make informed decisions to build robust product portfolios, improve R&D productivity and ensure regulatory compliance.
Our solutions unlock the value embedded in data – structured and unstructured – and derive intelligent health outcomes from enormous amounts of data generated.
AI-LED SERVICES FOR EFFICIENT TRIAL
OPERATIONS AND PATIENT-CENTRIC TRIAL DESIGN
What makes our solutions so compelling? They are designed by a team that has exceptional and highly regarded talent – Data scientists, Natural Language experts, medical data annotation specialists, physicians, and Lifesciences domain experts – whose purpose is to simplify the study process and improve patient outcomes. 
CAN A SOLUTION TRULY MAKE A DIFFERENCE?
What excites us about the solutions we have developed is not just the tangible impact on Life sciences Companies and the way they run their business, but the impact it has on the lives of patients – making their lives more pleasant and less stressful. Read on to see the many benefits we offer:
AS A
LIFE SCIENCES COMPANY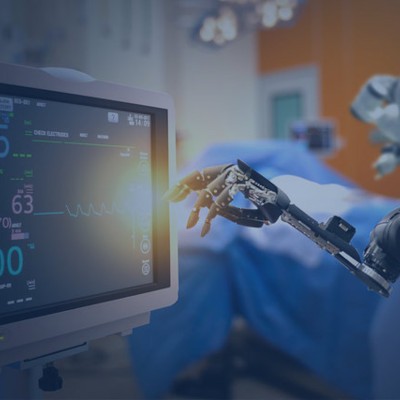 But as with any solution, it is only as good as its knowledge base, which is why we don't stop with its development, rather we continuously train the model for improved accuracy. The result? Efficient results, significant reduction in clinical trial costs and trial duration, but most importantly, increased success rate of your trials.