Intelligent Health Outcomes
Powered by Circlebase NLP platform
A major challenge for Life Sciences companies is to retain and ensure patient engagement across the clinical trial phases. To ensure successful study outcomes the patient needs to interact with health professionals constantly. They need to be closely monitored for adherence to the prescribed instructions on the drug dosage, frequency, adverse events. Active communication is essential to avoid frustration and health risks to the patient with timely intervention and care. Both healthcare professionals and patients want accurate answers to their medical and product questions, round the clock instantaneously. This is key to the successful outcome of the clinical trial.
Conversational AI tackles these issues, driving revenue growth, reducing costs, and helping patients make decisions.
Beyond Conversation. Circlebase's Conversational AI Solution
Our solution provides conversational virtual assistants that process multiple formats, understand the queries in natural language and provide the accurate response immediately. It is powered by our NLP platform. Our solution understands different ontologies, entities, and their relationship to provide an accurate response in your natural language. It is SaaS-based and hosted on the cloud.
Please see below a few snapshots of our solution in Action
Conversational AI can save as much as $150 billion
a year for the healthcare industry by 2026
Powered by our NLP platform
Multiple formats (Text, Voice)
Supports multiple medical ontologies 
Pre-trained model 
Authorized repositories with assured accuracy and compliance
Robust, secure, scalable SaaS-based solution
API driven makes it easy to integrate with existing healthcare platform
Rich knowledge base (emails, chats, social media threads, phone calls) – made available to the virtual assistant near instantaneously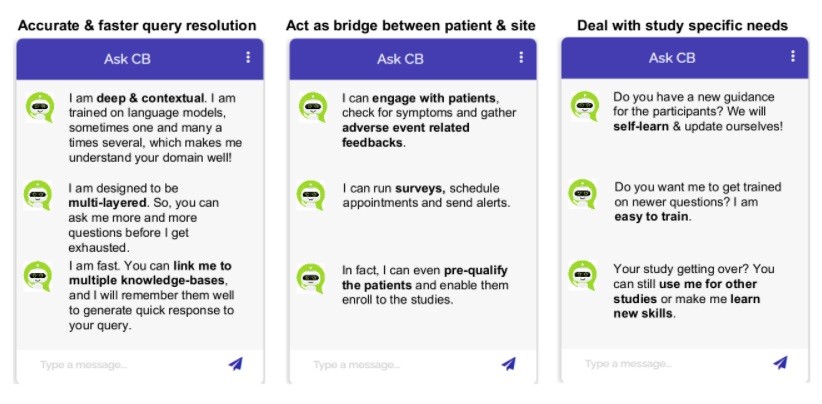 One solution. Many Assistants.
The conversational AI solution offers several business benefits and makes it an interactive and engaging journey for the stakeholders involved. Offers significant operational cost reduction for the contact centers and helps improve the revenue and bottom-line growth with an intuitive user experience. Please find below a few samples on how it helps you
Fill out this form and we'll connect with you to discuss how we can help you.